Home
Talk

0
506pages on
this wiki
Grand Fantasia Wiki Index
Latest Patch
Last Patch: September 6th, 2012 [1]:
Fortification increased to +18
Teleport stones to instantly teleport characters to quest point
Potions, Mid-Potions, Ether, and Mid-Ether have had their effects increased
New 10-slot backpack added to General Store
New PVP fruits and weapons
New Fruit Alchemy scrolls, teleportation fruits for Forbidden Temple, Phoenix Tower, Black Flame Ruins and Condemned Island.
Sprites Level 1-66 have increased EXP for work, increased success rates, and production times have been decreased
Drop rates for orange and yellows have been increased
Lower requirements for mounts
Elite Mobs have lowered HP
21-30 PVP added
Level cap increased to 90
Helping Out
Like every Wiki, the Grand Fantasia Wiki needs your help! Every bit of contribution is appreciated! You can help by:
Expanding our stubs pages
Creating our wanted articles
Uploading images
Improving our current ones (as no article is perfect)
Proofreading
Double-checking if anything shows up correctly
We have several Templates to be used for our articles, although most are still under revision as they will be modified for easier reading and editing.
If you are unsure how to edit but wish to provide data, you can head over the Forum or leave a message by clicking on the Discussion tab on the top right of the article. You can always go to our Community Portal if you want to learn to edit.
To write a new article, just enter the title in the box below.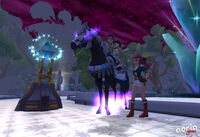 Grand Fantasia Links
| | |
| --- | --- |
| Official: | Other Versions: |
| Other NA Sites: | Other Version Sites: |
Community Corner
Welcome to the Grand Fantasia Wiki!
   The Community Corner is a little empty now as the wiki gets started, but soon this is where you can find things like News about the Grand Fantasia Wiki, Polls, and maybe even Community Volunteer spotlights! Have ideas for future Community Corner stuff? Talk about it at the Community Corner Forum page.
   Thanks to everyone who has and is continuing to contribute to the growth of this Wiki. If you are new and want to contribute yourself, you can visit the Editing the Wiki Forum page which talks a bit on the editing styles and links to example pages!
   If you want to disable the redirect to My Home when going to the Home Page from outside the wiki, uncheck the option in your preferences, under Misc.